My fourth interactive novel for Choice of Games came out in 2020. Like other games from Choice of Games, Blackstone Academy can be played on your mobile device or straight from your browser.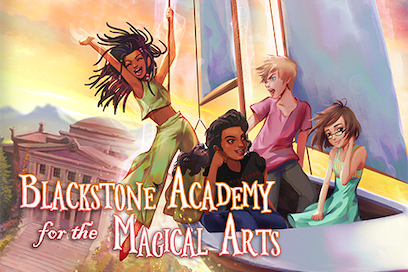 Art by Paola Tuazon
Welcome to Blackstone Academy is a project of my heart. I've been working on stories and ideas in the Thimbleport setting for over a decade, and to see that setting and its magical school come to life is a dream come true. Players are a student in their first year of high school at a school for the magically talented. But something strange is happening with magic, and supernatural students are losing control over their abilities. Will you fight for equal rights for supernaturals? Or will you work toward harsher restrictions to keep humans safe? And what will you do about the strange things happening with magic?
Buy this game for your browser.
I've had the good fortune of being an editor on several of Gallant Knight Games' line of Tiny D6 minimalist roleplaying games. The system is really fun and quite easy to learn.
It all started with Tiny Dungeon 2e.
Cover design by Robert Denton, art by Michael Leavenworth
Buy this game from DriveThruRPG.
With the success of the original Tiny Dungeon 2e Kickstarter Campaign, creator Alan Bahr asked if I'd like to lead a team to adapt the rules for a young audience. The result is Tiny Dungeon 2e: The Hatchling Edition, for which I created an all-female game design, layout, and art team, who created kid-friendly adventures suitable for introducing young gamers to the world of role playing. It was a dream project to lead, and I'm delighted to continue to work on whatever projects Alan sends me to edit!
Cover art by Olivia Stephens
Buy this game from DriveThruRPG.
I edited and contributed a microsetting to Tiny Frontiers: Revised, introducing a Sherlock Holmesian/Pinkerton agency of future space.
Cover art by Michael Leavenworth
Buy this game from DriveThruRPG.
For Tiny Wasteland, I took inspiration from my work at Outland Entertainment, editing Robert J. Duperre's Soultaker. That post-apocalyptic story, meshed with some references to my days playing Xen'drik Expeditions and the song "How's the Weather at the End of Time" to create a weird little microsetting. I edited this one as well.
Cover art by Tan Ho Sim, Logo by Robert Denton
Buy this game from DriveThruRPG.
My third interactive novel for Choice of Games came out in 2016. Like other games from Choice of Games, Choice of the Pirate can be played on your mobile device or straight from your browser.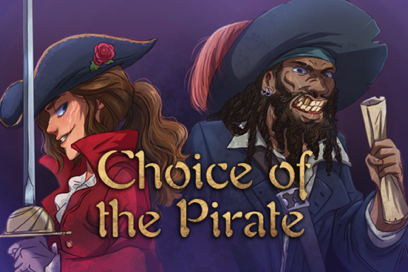 Art by Nilah Magruder
Set in a Carribbean-like sea during the Golden Age of Piracy (with a little magic thrown in for good measure), Choice of the Pirate plays with a lot of the usual pirate tropes: ghost ships, privateers vs. pirates, mermaids, and the kidnapping of the governor's "daughter," while also dabbling lightly in the problems of colonialism and notions of freedom and responsibility. Of course, you can ignore the heavier topics and just hang in there for the swashbuckling action!
Buy this game for Google Chrome.
Fellow Mythopoeic Society member Randy Hoyt of FoxTrot Games approached me in 2016 asking for recommendations for fairy tale artists. Did I know any? I did and sent him some names and contact information. A few months later, he returned, happy to have connected with the excellent Jennifer Meyer, whose work is now gorgeously on display in the game. He had another question—what would I think about writing a fairy tale that would accompany the card game?
Art by Jennifer Meyer
The idea of writing an original fairy tale that still felt traditional, and incorporated many traditional elements, was a really exciting proposition, and because I've always enjoyed working with Randy, I signed right on. With some family brainstorming and contributions from the young fairy tale readers in my household, I set to work on "The Queen's Butterflies," which is now available for free at the FoxTrot Games website. Pieces of the story are also a part of the game's rulebook.
It's a fantastic trick-taking card game, definitely accessible for younger players, with some twists that keep the game play fresh for veteran card gamers. If you enjoy the fairy tale (and maybe even if you don't), it's definitely worth picking up a copy of the game to play!
Buy this game from Renegade Studios.
In November 2013, my second interactive novel, Showdown at Willow Creek, was released by Choice of Games. Like other games from Choice of Games, Showdown at Willow Creek can be played on your mobile device or straight from your browser. The first few chapters are free as a demo in your browser and at the iStore (it's listed there as free, but the full game costs $1.99).
Art by Ron Chan
Saddle up and defend the town of Willow Creek from nefarious outlaws and city slickers! It all starts when a rancher's daughter goes missing, and it ends at the showdown at Willow Creek, where greed, lust, science and Mother Nature will face off at high noon.
"Showdown at Willow Creek" is the interactive western mystery novel by Alana Joli Abbott where your choices control the story. The game is entirely text-based–without graphics or sound effects–and driven by the vast, unstoppable power of your imagination.
Gamble, seduce, brawl, or shoot your way through Willow Creek, where gunslingers make the laws, and everybody has secrets. Will you romance the gambler or the soiled dove (or both)? Will you side with the scientists bringing electricity to the Old West, or with a tribe of Native American Utes? Will you unravel the conspiracy that threatens to tear the town apart, or will you light the fuse to blow it all sky high?
Buy this game for Google Chrome.
In December 2012, I saw the release of my first interactive novel, Choice of Kung Fu. The Choice of Games structure combines some of what's best about writing adventures for tabletop roleplaying with some of the highlights of fiction writing to create multiple-choice fiction. The games are fantastic, and I had such fun with Choice of Kung Fu. I couldn't be more pleased with the positive reception it has gotten -- including placing #4 in the Casual Gameplay mobile RPG of the year.
Choice of Kung Fu can be played on your mobile device or straight from your browser. The first few chapters are free as a demo.
Art by Sandy Jacobs-Tolle
Become the greatest fighter the world has ever known, harnessing the power of chi to manipulate the energies of the universe. Defeat rivals, find romance, and rise to become the Imperial Champion. Win the right to question the immortal Dragon Sage, who speaks just once every hundred years!
Choice of Kung Fu is a fast-paced interactive fantasy novel where your choices determine how the story proceeds. The game is entirely text-based--without graphics or sound effects--but powered by the vast, unstoppable power of your imagination.
The fate of the Middle Kingdom depends on you! Will you play as male or female? Gay or straight? Will you battle against foreign invaders, or will you rise up against the Emperor? What question will you ask the Dragon Sage, the wisest of all creatures?
Buy this game for Google Chrome.
Buy this game on B&N for the e-ink nook.
Buy this game on Amazon for e-ink Kindle.
Art from "Songs of Sorcery"
One of my very first game writing gigs was for the Living Kingdoms of Kalamar campaign, for which I eventually became the Campaign Director, writing more adventures than you can shake a fist at and supporting organized play opportunities for an international community of gamers. Run in tandem by the RPGA (Wizards of the Coast) and Kenzer and Company, the campaign lasted for several years and got to 13th level before edition changes in both companies moved the campaign in a different direction. Some of the original adventures are still available through Kenzer and Company's website, but none of the ones I've written are still available (though I'm sure they're floating around the Internet!).
I was also a contributing writer to Xen'drik Expeditions for the RPGA and have written modules for Living Forgotten Realms (and expect to write another one in 2014). Those experiences gave me a foot in the door at Dungeon and Dragon magazine, for which I've written several articles. They're available for subscribers only, but are linked here.
Steampunk Musha
Rick Hershey had been working on the concepts behind Steampunk Musha for years when he brought me on write the actual RPG, which we released in the Iron Gauntlets system. A short story anthology set in the world is available for purchase and more thoroughly described under short fiction.
Imagine an island where tradition wars against technology. The last of the samurai have nowhere to turn, and yakuza thugs and street fighters now hold the respect of the streets. Shangti Cowboys have showed the island the power of firearms, and Mechanists have proven the triumph of machine over superstition. But the old ways linger. Kabukika, warriors of the theater and users of magic, hold onto their traditions, as do the Nikobo, who find that as the land travels farther from its traditions, its spirits grow restless....
Serenity Adventures
I've been a fan of Firefly since before the sadly-cancelled Joss Whedon show even hit the airwaves. (I was on a test panel that got to preview a trailer for the show the winter before it came out.) When I heard that Margaret Weis Productions had the license for the Serenity RPG, I lined right up to contribute. My first chance was in the adventure collection, Serenity Adventures, which won a 2009 Origins Award.
You and your crew are out in the black, doing whatever it takes to get by. This series of adventures is designed to be dropped into any ongoing Serenity campaign, and uses the CORTEX rules system.
Gallia: Land of Chivalry, Intrigue, and Romance
Gallia is the first book I ever had a contract for, and is roughly what convinced me to really put in the effort to become a writer. Though it's just a little e-book with limited sales, it has a very special place in my heart for that reason.
A setting for d20 fantasy, inspired by the myths and legends of medieval France, this highly detailed sourcebook for GMs is packed with NPCs, monsters, magic items and equipment, intriguing places, and more flavor than a piping hot pot of bouillebaise! Discover the rules for jousting tournaments, the chivalry of knights and courtly love. Indulge in local lore and gossip of such legendary characters as Charlemagne, Ricky of the Tuft, Analise the Ugly, Renart the Fox and Blue Beard.
Balok's Books of Banter: Battle Cries
I also contributed to Balok's Books of Banter: Battle Cries, the second of a series of books penned by the low-caste, high-minded demon—Balok the Strange. He has searched the planes for all manner of odd bits of information, quirky trivia, and bizarre ideas. This book catalogs the words of the brave—or not so brave—before leaping into the fray of battle. Filled with dozens of humorous "last cries," this book is sure to put a smile on your face...or provide a meaningful epitaph for a favorite character.